Perhaps you are planning an intimate cocktail party at home to celebrate a special occasion. Maybe you are coordinating a large company banquet in a hotel ballroom to celebrate the holidays.
Whatever your floral needs, we can help you make your special event an occasion to be remembered for years to come.
Since our main focus is specifically floral decor, we will be happy to refer you directly to other vendors who specialize in other areas of decor, such as plant rentals, table and chair rentals, linen rentals, pipe and draping, lighting and other services. We work with the best in the city and are happy to guide you to the vendors who are the correct fit for your particular event.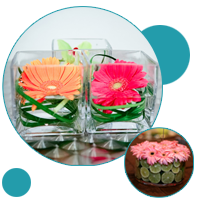 Upon inspection of the site, we can quickly describe creative ideas that will enhance the style of the event. It has been our experience that many of our clients are thrilled by our suggestions for decor and often rely on us to just "make it gorgeous." We love to instill that level of trust. First, it provides us with the opportunity to surpass their expectations, while engaging our talents to a higher degree. Second, many times we find flowers and decorative items that are rare or new on the market, and we are able to easily incorporate these into the overall look. We hope we can provide you with the highest level of beauty and creativity.
Photo credits: (right cluster) center and bottom - Thom LaRussa and Riku Hulkkonen, top left - Sharon Franz, top right - Sandra Johnson; (left cluster) Sharon Franz