We provide floral arrangements for businesses throughout the downtown and greater Orlando area.
Whether you need a large floral display to create a dramatic focal point in your lobby or something simple and architectural to accent the reception desk, we can provide flowers that will enhance your company's image. Stylized tropical arrangements are perfect for an office situation since they stay fresh for several days and look upbeat and professional. If your office is more traditional, we can create arrangements of seasonal flowers to reflect the particular time of year, choosing flowers that will last throughout each week.
We understand office budgets can often be tight, so we work with you to make flowers an affordable luxury. We replace office flowers weekly or as often as you like, using our extensive inventory of vases, urns and containers that we rotate between clients so that your money goes into flowers, not into the container.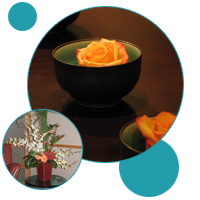 Using different containers gives your flowers a rich, distinctive look and provides your office environment with a fresh appearance each time we replace them.
Here in Florida, we tend to lose the concept of the changing seasons, especially when we are stuck in an office from 9 to 5. Nothing perks up a workspace and impresses a client more than seeing a dramatic springtime bouquet of yellow forsythia branches and salmon French tulips, or a winter holiday wreath of bright red pepperberries and fragrant evergreens. The elegance of richly hued designs and subtle textures throughout the year can evoke messages of traditional values or contemporary inspirations. We work closely with you to ensure a look that is reflective of the manner in which you treat your clients and inspire your employees.
Please note that we do have a minimum order of $100 per week for office flowers.
Photo credits: (right cluster) top and bottom left - Sandra Johnson